IF YOU'RE LOOKING FOR THE BEST ASS IN SHOW BUSINESS you've come to the wrong place. Or for doors to places for which there is no way back. They're not here either. No one is making claims about recalibrating the paradigm or uniting the taxonomies of teenage castes under one mighty sound. These are the Foxfire Midlands they are. Near Snowrat Illuminated Church. Specifically we're beside the Timesicle at Clover 4. Perhaps this is a return to just saying things. That sounds like it's in the area of right. Good songs build rooms in time. Think of "Tacoma Rain" or "Woodchilde Masquerade". And no one's even written them yet, for goodness sake! Yes there are second aspects to all this. Good times will turn lies into the truth, and advantage still pours haltlessly into the hands of the untrue, boring and useless but we'll keep at this basically moral work, until these garnet palisades are flush with exits and our eyebrows have become like snowy ledges because there is nothing like your love in all this world.

David Berman, Worlds Of Possibility Liner Notes, 2003
Worlds Of Possibility, the 2003 compilation album celebrating the 10th anniversary of, much loved Indie label, Domino Records feels, to me, like an old friend. I've recently unearthed it form my box of CD's which hadn't been opened since before a house move three years ago. It feels a little like a relic of a bygone age. It's nicotine yellowed & scuffed at the corners. A time capsule from a time when I didn't treat physical music media with the respect it deserves. An age of cracked CD cases & coffee stained lyric inserts. I haven't used a CD player for years. Except the USB one that plugs into my laptop, and which I use solely for burning CD's into my music library. Most of my music these days is streamed digitally. I still love the physicality of a CD or an LP though. I like the sense of ownership I feel over such things.
The first exciting discovery – or rediscovery – I made when I opened the case was that it had a beautifully poetic liner note written by the late, great & sadly missed David Berman. Early readers of my blog will be aware that I love David Berman. This is typically Bermanesque. Reading it feels like gazing into a magical carnival hall of mirrors which only reflects parallel universes back at you. You marvel & wonder at the unwritten classics "Tacoma Rain" & "Woodchilde Masquerade". Your brain tries fruitlessly to decode the location of the "Foxfire Midlands" or the "Snowrat Illuminated Church". You find yourself staring at what you imagine a "Timesicle" to be in your head. A frozen, elongated piece of time which tapers off to a point. Would it be the perfect crime to stab someone with one? What about if you committed the crime at "Clover 4". These are questions we can only wonder at. But the impression we're left with from this surreal & pretty piece of writing is one which seems to encapsulate the sound of Domino Records generally, & the collection of songs on Worlds Of Possibility specifically. Even if you can't say quite how this is so.
Worlds Of Possibility kicks off with the earthy, warm tones of Sebadoh track, Soul And Fire. It's a kind of lo-fi update of '60's jangle Pop but with oodles of atmospheric melancholia & Lou Barlow's hurt sounding voice. Similar ground is tread with The Spectre by Royal Trux but with less melancholia & a darker sound palate. There's a reverential tone to The Spectre. The subtle distortions & the unconventional percussions taking on an almost chant-like quality.
Laidback Indie Pop with a soulful swoon greets us in Palace Music's More Brother Rides. There're hints of Beck to this, but it's hard to draw a comparison to a particular song or album. Things become even more lo-fi with Standard 8 by Quickspace. Mumbled, barely audible vocals embedded deep in a crunchy melody which Mark E Smith wouldn't feel unwelcome in. Maybe a touch more in the direction of Guided By Voices.
Flying Saucer Attack turn in a thrillingly noisy cover of Wire's melodic New Wave classic, Outdoor Miner. Layers of shoegazing fuzz & reverse reverbs form a trebly wall of sound which, due to a weaker low end, falls just short of what it could've been. This transitions, far better than it should, into the sunny, upbeat Pop of Worlds Of Possibilities by The Pastels. Head nodding is not optional.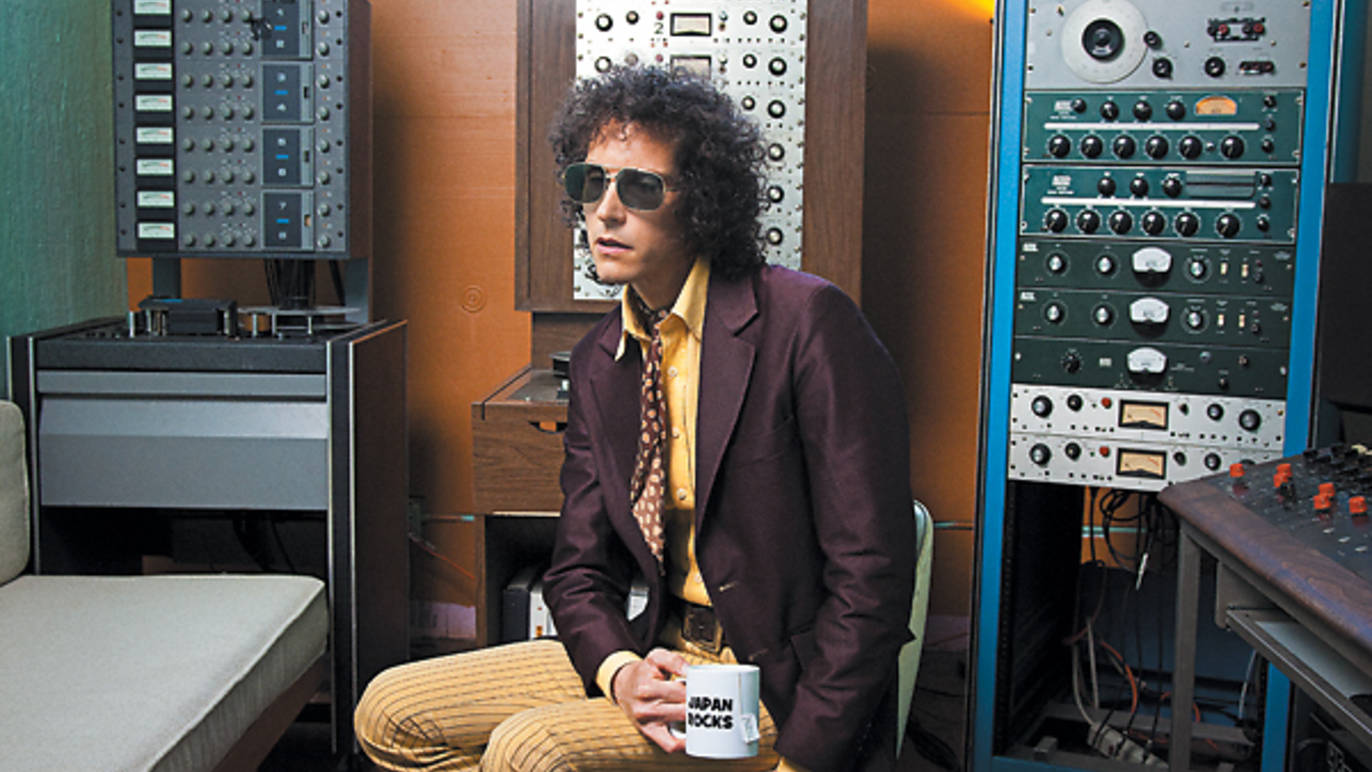 Plush bring some bluesy, fuzzy, downtempo Indie Rock with Three Quarter Blind Eyes. It's roots lie in '60's classic Rock. Neil Young playing guitar solo's for Lynrd Skynrd maybe? Strong, clear vocals which almost break up as it moves into falsetto ranges. Following track, Held by Smog, actually pairs quite well with the prior track. It's a melodic, lo-fi slacker ballad from the same parallel universe as David Bermans' Silver Jews (who we'll hearing from later).
Neskwik by Woodbine is sweet sounding, home recorded twee pop in the vein of The Vaselines or Beat Happening but with edgier guitar sounds. Elliott Smith Elliot Smiths his way through the Indie Folk standard Speed Trials. Loping rhythms & unusual vocal melodies tie it into the Domino style. There's a demo quality to every element but the vocals, which sound much more professionally recorded.
Clinic's Distortions is slow & purposeful Psyche Pop built around atmospheric organ sounds, lazy rhythms & melancholic falsetto vocals. Ghost Ship In A Storm by Jim O'Rourke is pleasant enough Indie Folk with nice foot tapping rhythms & lapsteel guitars giving it some nautical, surf-ish vibes.
Sleepy Sweet by Pram starts off with some chirping crickets & swampy background effects before dropping into a bass driven, lazy Pop song. It's hard to pin down it's influences exactly but it's gives an impression organic Trip-Hop, led by thick, warm hammond organs. There's an almost tropical, Reggae feel to it so I was surprised to see Wikipedia lists Pram as a Post-Rock band. I guess I need to check out more of their material.
Papa M's Plastic Energy Man seems to belong to a genre which was fairly popular around the turn of the century, but which you never hear mentioned anymore: Folktronica. One of the British music press's horrible portmanteaus I'll wager. Used to describe what was essentially acoustic guitar noodling over minimalist electronic percussion, bass & synth layers. I'm actually quite a fan. I remember the legendary Four Tet (later) been described this way too.
Whale Bones by Preston School Of Industry (side project of Pavement's Scott Kannberg aka Spiral Stairs) is the perfect balance of sunny Indie Pop melodies, lo-fi production values & off kilter vocals & lyrics which I'd expect from a member of the band who pretty much defined the sound of modern Indie Rock. Personally, as much as I love Stephen Malkmus, I think Spiral Stairs is Pavement's best kept secret & I really love Whale Bones & pretty much all of his output.
Fresh from his appearance at the start of this compilation (Sebadoh) one of Lou Barlow's other bands, Folk Implosion, contributes Free To Go. Anthemic bedroom Pop almost too perfect for radio.
Speaking of too perfect. The penultimate track of disc one takes us back to those beautifully written liner notes. David Berman's Silver Jews classic Random Rules is an absolute gem of a song. Perfect lyrics sung in Berman's lowkey, underdog drawl & a backing band featuring Pavement's Stephen Malkmus & Bob Nastanovich (these guys get everywhere on this compilation) playing the lowkey, underdog Indie Rock which made Silver Jews such a touchstone of the Indie Rock canon.
Anyway, before we get to the end of disc one, here's Pavement again. This time in their own right with the epic The Hexx. The Hexx was recorded twice. Originally for Brighten The Corners but this version is taken form their farewell album Terror Twilight. Produced by Nigel Godrich (of Radiohead fame) The Hexx is an absolute classic Pavement song with obscure lyrics, oddball Indie melodies & oddball guitar jams.
Since we've reached the end of disc one & this post has already become longer than I originally imagined, I think I'll cover disc two in a followup blogpost tomorrow. Sitting and listening to a fantastic compilation album while writing about it is no great chore, after all.