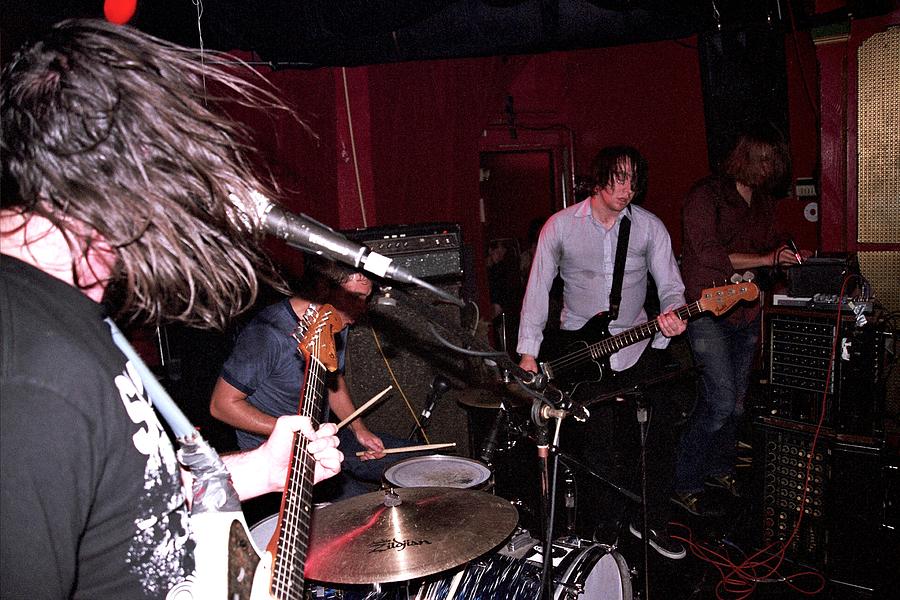 During my blogpost about Sub Pop's Patient Zero sampler a few days ago, I discovered that I really enjoyed the track Antlers Of The Midnight Sun by Comets On Fire more than any of the other tracks. Strangely I had little memory of this track from when I used to listen to this compilation regularly in 2004/5-ish. As a result of my love of that track, I have since been checking out their catalogue. Blue Cathedral is the album which Antlers Of The Midnight Sun is taken from, so I thought that would be a good place to begin.
Blue Cathedral runs the gamut from psychedelic '60's Garage Rock to punishing Sludge Punk & takes in all manner of other genres in between. Think The Stooges or the MC5 temporally displaced into the mid-'80's US Indie Underground.
Comets On Fire are well known for their use of the Echoplex tape delay. All of the tracks use it fairly liberally on singer, Ethan Miller's vocals, which helps to turn his Iggy Pop-esque primal screams into thrilling & surprisingly deep sonic structures. Opening track, The Bee And The Cracking Egg has dub-siren-like delayed synth tones embedded deep in it's psychedelic noise jams. A feature which resurfaces several times throughout the album, & which is as fun as it is chaotic.
Whiskey River & the short instrumental jam, Organs have that '60's Garage feel encoded deep in their DNA, the latter due to the heavily delayed Hammond Organ patterns. The former employs what sounds like (and I'm sure actually is) dial-up modem tones, distorted & mangled through their trademark Echoplex. Strangely enough, this '90's & early '00's specific sound doesn't sound out of place among the screeching guitars & pounding rhythms of the otherwise retro sounds.
Antlers Of The Midnight Sun is the oddball Indie thrash-a-long I wrote about in the Patient Zero article &, if anything, sounds bigger & more exciting in the context of an album of similarly sonically structured songs. The heavily distorted lead guitars sound almost as if they are threading in and out of the crunchy rhythm guitar patterns.
Brotherhood Of The Harvest takes off with an extended noise jam of screeching guitar noise, clattering drums & early-Pink Floyd style organ drones which break down into a downtempo, Organ centred Psyche Rock jam. Definite Pink Floyd or Procol Harum vibes to the lead guitar parts & chord structures too.
Wild Whiskey features acoustic guitars & unusual percussion embedded in a wash of feedback-drenched guitar drones. It has an upbeat, spaghetti-western feel to it that I kind of wish they'd utilised a bit more on the album. It's similarly off kilter to the Floydian previous track.
Epic 10minute closer, Blue Tomb begins with sludgy guitar drones which give way into downbeat Garage Rock drumming. There's an improvisational looseness to the guitar playing which fits the lethargic rhythms beautifully. As well as the perceived looseness there is an almost hypnotic feel to the repetitive (in a good way) rhythms which propel the song forward through it's noisy psychedelia & Echoplex-soaked vocals. Towards the end the Echoplex is truly put through it's paces with some incredible delayed siren sounds which scream out dub.
On a tangentially related note, I had the opportunity to use a similar machine to the Echoplex while in the studio with my band, Nauseous Skies, & I can confirm that it is incredibly fun to use. It is also addictive & I can understand the temptation to record almost every instrument & sound effect through it.
Tom loves coffee. If you've enjoyed any of the content he's created then please consider donating a few quid to buy him a cup.