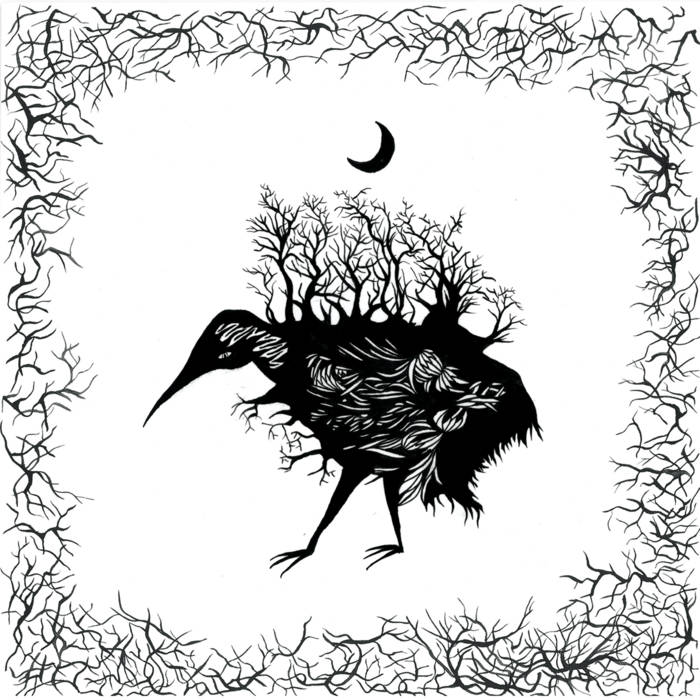 Clara Engel is independent Folk artist who has been recording & performing since the early '00's. A quick glance at their Bandcamp page will tell you that they are extremely prolific, with multiple releases most years.
Their latest release, Hatching Under The Stars is a minimal folk album built around live session recordings of voice, guitar & drums. From this minimal foundation, Engel has built up an atmospheric & dark collection of haunting, cinematic ballads.
The instrumentation is extremely sparse & carves out cavernous spaces with room ambience & reverb. Guitar notes are left to hang in the abyss & the drums seem to reach us from deep underground. Accordions & celtic harps are woven through this spacious soundscape. Electric guitars are utilised as ambient noise generators, adding whale sounds & swelling dissonance to the compositions, creating uneasy atmospheres. Violins & cellos bring their own unique brand of tension & sadness.
Rhythmically, Hatching Under The Stars has a solemn, marching feel to it, lending a spiritual & essence which mirrors the stark & cover art, painted by Engel. The way they threads their vocal melodies through these rhythms almost lends the songs a sermonising, chant-like quality. Fittingly, Engel sometimes describes their music as "minimalist holy blues", & you can certainly feel that in the spiritual atmospherics of the quieter, moments.
Popmatters writer Justin Vellucci, in his review, compares the compositions on Hatching Under The Stars to Andy Warhol's 1964 film Empire, a static shot, slow motion film of an unchanging view of the Empire State Building. The minor things which break the monotony, like a bird passing or a light turning on in an office window provide a sense of fleeting, ephemeral drama which Vellucci likens to Engel's repetitive guitar figures & the emergence of minor variations within them after several minutes or of new instrumentation arising, unexpected from the deep atmospheres.
Engel's breathy vocals seem to possess a sense of almost confessional intimacy. This propels the songs forward & takes your hand, gently leading you into the dark, folkloric worlds the soundscapes conjure. There is a sense of the music moving past you as you press on in a kind of journey through a near mythical landscape.
There is a warmth to Engel's music which is extremely comforting in these cold & fear filled days. There is always a desire to be led by someone else, for someone to make the difficult decisions for you, when you feel you have no control over your life, & I suspect record numbers of people are feeling like that at the moment. The sense of free fall is almost arrested by the stillness of the compositions & the sense of claustrophobic isolation is almost escaped through their spaciousness. To complete & even continue the sense of immersion which these soundscapes produce, the final sung line on the album is "the mystery will go on without me". You feel that the universe it both becomes & inhabits, & through which you have been led by the hand, will continue to exist long after you've completed your journey.
Hatching Under The Stars is available now from Clara Engel's Bandcamp.
Tom loves coffee. If you've enjoyed any of the content he's created then please consider donating a few quid to buy him a cup.